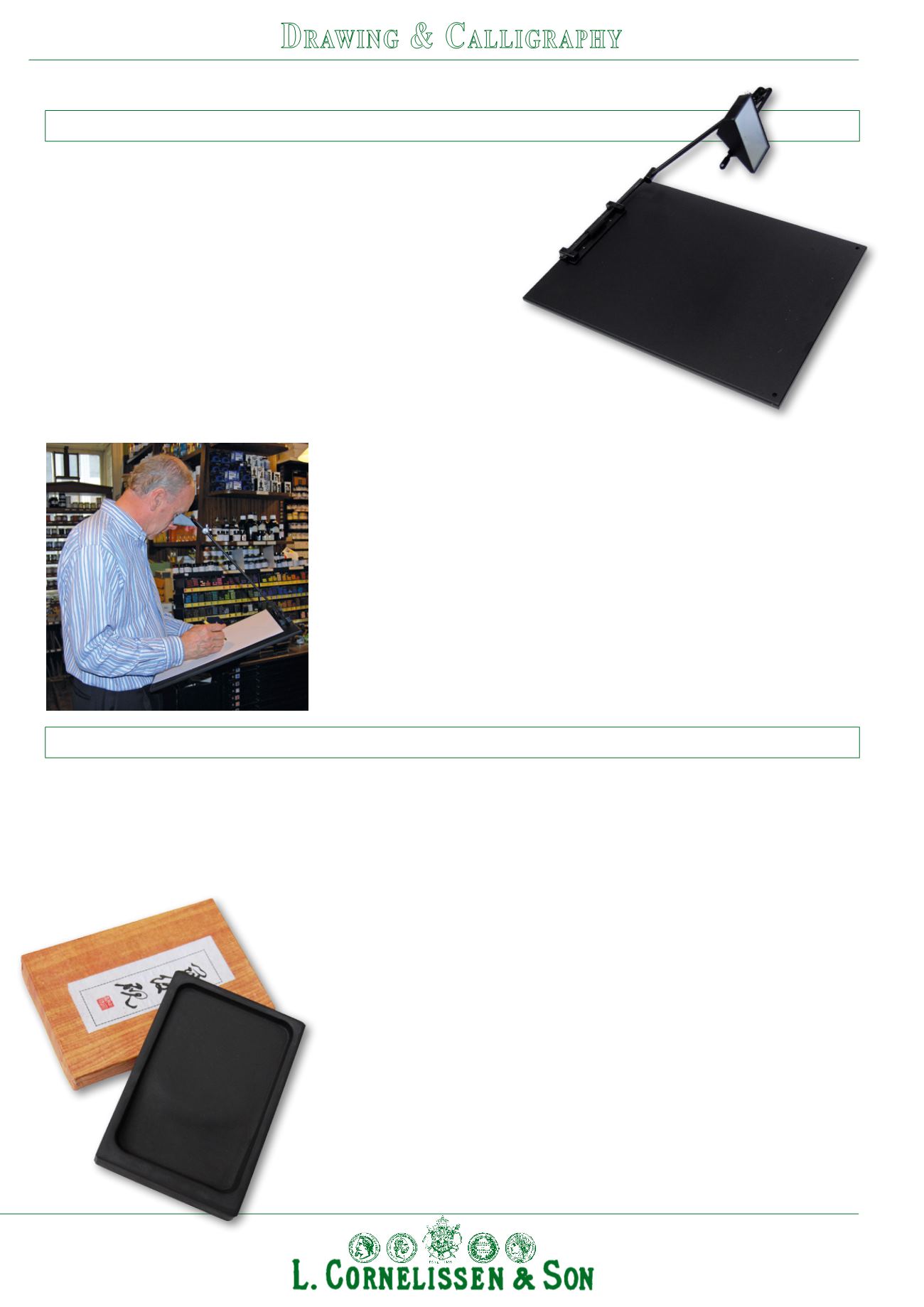 Section 5
The Cornelissen Camera Lucida is a modern version of a traditional artists' aid
used to assist fast, accurate and realistic drawing and painting. This optical instru-
ment uses mirrors which allow the artist to view a virtual image of the scene in
front as if it were already a picture on the drawing paper. A Camera Lucida with a
glass prism has recently been used in a number of drawings and commentaries on
traditional techniques by the artist David Hockney. In his book "Secret Knowl-
edge" he sets out that many artists of the past used lenses as an aid to accuracy.
The Camera Lucida is a practical working instrument providing three main ben-
• It provides the potential for greater accuracy.
• It increases the speed at which the artist can work.
• It enables the artist to work on the composition of the picture before starting
Our Camera Lucida includes two polycarbonate mirrors fixed in a moulded plastic housing (12
cm x 5 cm). This is attached by an arm to an A3 size black MDF drawing board and includes a
camera tripod attachment on the base. The board has two detachable supports at one end to hold
images. They allow the Camera Lucida to be used to make drawings based on photographs.
When used in this way the finished drawing is the same size as the photograph. The Camera
Lucida provides approximately a 50 degree viewing angle. This is sufficient to view the whole of
an A3 sized paper with the instrument held in place by the arm about 52 cm above the centre of
the paper. Achieving a 50 degree angle of view assumes the eye is close to the instrument. Users
with spectacles will achieve a smaller angle of view. Both right-handed and left-handed versions
are available (please specify).
Price : £124.00 inc VAT (+ £9.00 carriage within the UK)
Camera Lucida
Japanese painting, calligraphy and the related crafts of ink
and brush-making have long been highly regarded worldwide.
Working in close partnership with the finest ink suppliers and
brushmakers, we are now able to offer a range of products that
relate both to the traditional and contemporary art of Sumi and
What is sumi ink?
Sumi is made from a mixture of soot, bone or animal glue,
similar to gelatine, water and perfume, usually camphor. The
soot comes from a variety of sources traditionally from the
burning of red pine and rapeseed oil. Today the carbon black
is most often produced from mineral-based products to attain
high standards in colour and grade of the ink.
The colour of the sumi depends on the size of the molecules.
The larger the molecules the bluer the sumi; the smaller the
molecules, the browner the sumi. The sumi colours are subtle
and infinitely varied, sometimes with added indigo to enhance
the blue tones or iron oxide for red tones.
Sumi & Fude - Japanese Products
and research by Christine
Sumi
Fude: Brushes
This information has been