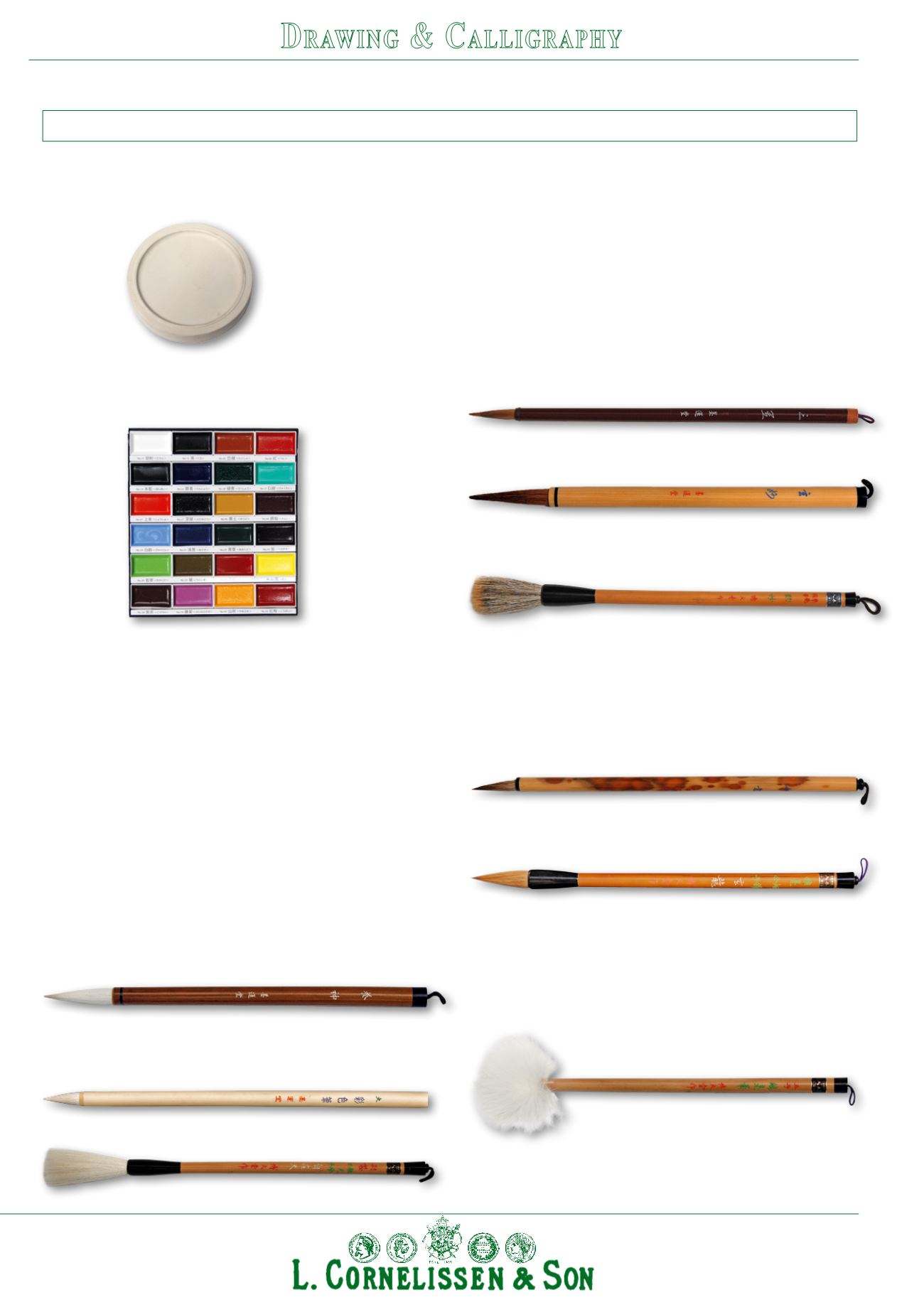 Section 5
Sumi & Fude - Japanese Products
Goat hair holds sumi well and is extremely pliable. Hair from the neck of the
male goat is the most prized, producing the finest of goat-hair brushes. They
lack spring but retain a good point and have excellent absorbency.
Yo-Shin Pure Goat Hair Brush
9.75
11.70
Drawing Brush
(Goat and Horse hair mix)
9.58
11.50
Hakubundo Pure Goat Hair Brush
65.00
78.00
Code
ex VAT
inc VAT
Hairs from the back of the deer are slightly coarse and are often combined
with other hairs to form the brush core of calligraphy and wash brushes,
whilst horse hair from the belly and ears is also used in the core hair of
calligraphy brushes, taken from the horse's belly and ears. Strong, resilient
and somewhat coarse, these hairs are very absorbent but do not hold
their shape well. These brushes are easy to control and good for beginner
calligraphers and painters.
Mikasa Brush
(Weasel and Deer/Horse mix)
5.33
6.40
Genmyo
(Horse and Raccoon Hair mix)
9.75
11.70
Hakubundo Raccoon Dog Hair Brush
46.50
55.80
Weasel hair is less sturdy than Horse or Deer hair but has a greater absorbency
and can be compared to the Sable brush that is so highly prized in western
art. A weasel hair brush is often used for the informal Kana script in Japan
because it is both supple and has spring.
Nyoi Pure Weasel Hair Brush
20.00
24.00
Hakubundo Pure Weasel Hair Brush
46.50
55.80
The Chicken Feather Brush is a relatively new brush. It is very absorbent
and has no spring at all making it difficult to control. However, they produce
unique lines and effects when wet and can be used dry as a blender.
Hakubundo Chicken Feather Brush
27.83
33.40
Japanese Brushes
Japanese Brushes
There are different types of brushes such as calligraphy brushes, paint brushes,
designer's brushes, etc. Japanese brushes should only be used with water-
based paints or pigments, not acrylics or oils. Only fine, flexible hair that
retains the colour, texture and other unique characteristics of each animal is
Brushes need to be cared for to ensure a long life and sustained performance.
It is advised that brushes should be washed out after every use with cool water.
Soap and hot water can damage the brush hairs. After washing, shake out the
excess water, reshape and either lay flat on a stand with the brush head free, or
preferably hang it by the loop at the end of the handle so water does not trickle
back up into the brush and collect at the base of the brush head.
Code
ex VAT
inc VAT
Recommended for use with coloured sumi
7.75
9.30
each
A series of coloured paints in solid form contained in plastic palettes.
These paints are also animal glue based and are compatible with sumi inks.
Set of 24 colours
30.00
36.00