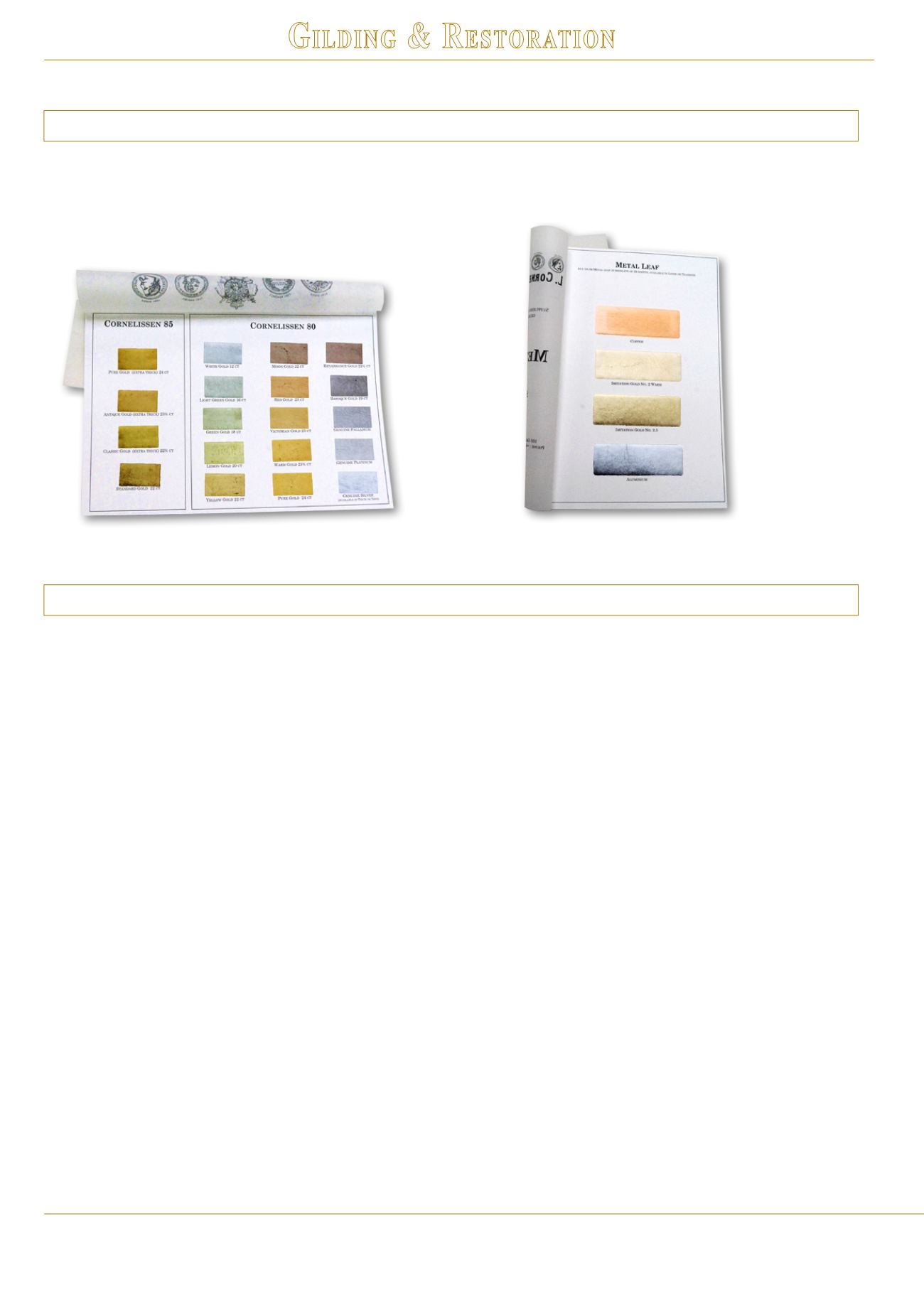 Worldwide Mail Order Service.
Phone +44 (0)20 7636 1045 Fax +44 (0)20 7636 3655
Section 6
Sample Charts
Useful Definitions
Code
ExVAT
IncVAT
A sample of each gold leaf in our
Cornelissen 80 & 85 ranges. A4.
Including platinum and silver samples.
20.00
Code
ExVAT
IncVAT
5.00
Loose Leaf
‒ Gold leaves rest between rouged pages of booklet. Specialised brushes and tools are usually required in order to successfully handle loose gold leaf.
Generally used for water-gilding techniques and for gilding relief and intricate surfaces.
Transfer Leaf
‒ Each gold leaf is gently pressed into a backing sheet of slightly waxed tissue paper. Transfer leaf is usually easier to handle than loose leaf. It
requires a tacky gold size and is, therefore, not suitable for water-gilding techniques. Transfer leaf is pressure sensitive and must be handled and stored with great
care. It is also sensitive to heat. All of Cornelissen's transferring is done "in-house" and loosely-pressed is available to order.
Reverse Transfer Leaf
‒ Each gold leaf is transferred onto the non-waxed side of the tissue paper. This leaf is easier to handle than loose leaf and it comes away
from the transfer paper more easily than transfer leaf. It also has a slightly shinier finish than ordinary transfer gold leaf, because the leaf has not come into contact
with the fine film of wax on the tissue paper. Each shade of gold leaf in Cornelissen's range is available in reverse transfer to order.
Gold & Silver Foils (Paillons)
‒ Extremely thick gold and silver leaf that will not break or burn away when exposed to heat. Used for enamelling techniques and
Gold & Silver Powders
‒ Fine powders made from genuine gold and silver leaves. This powder can be mixed with various mediums (including gum Arabic or
shellac) to create genuine gold and silver paints and varnishes, or they can be dusted onto tacky gold size for genuine gold and silver finishes.
Shell Gold
‒ Genuine gold, silver and palladium watercolour paint sold in ¼ pans. A drop of ox gall can be added when painting to break surface tension and