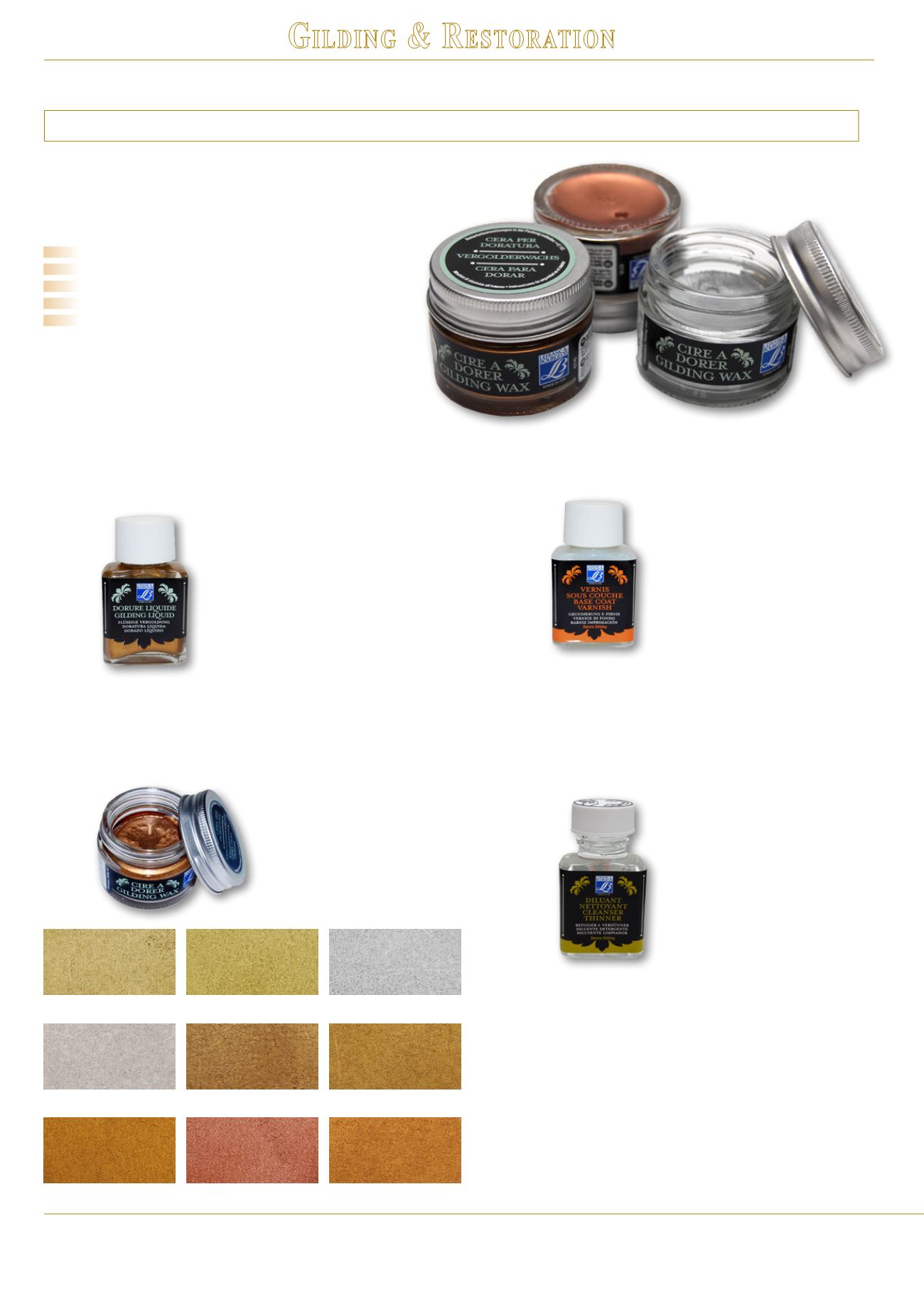 Worldwide Mail Order Service.
Phone +44 (0)20 7636 1045 Fax +44 (0)20 7636 3655
Section 6
Imitation Gold Paint
The system comprises ready to use liquid and wax variants that provide an
alternative to traditional gilding. Formulated with metallic pigments that
Brilliance
Lustrous Quality
Excellent lightfastness
Durability against abrasion
Excellent Coverage
For use in decoration and small restoration work both interior and exterior.
Quality system that can be used in professional applications. Creates
metallic effects and old or antique patinas. Safer than other solvent based
alternatives. Contains no harmful Xylene. Solvent and resin acrylic base
makes the product more pleasant to use than alternatives.
Provides a professional finish and high quality shine. Apply with synthetic
brush. Use on a variety of supports including wood, plaster, clay, metal,
glass, cardboard, stone and paper.
10.17
12.20
Provides an easy application and uniform finish. Use on objects and
mouldings. Use on a variety of supports including wood, plaster, glass,
cardboard, stone and paper. Applied by brush or cloth and covers quickly.
8.58
10.30
Use as an undercoat to isolate the support and give a brighter result. Use as
a varnish to protect from abrasion and detergents.
5.50
6.60
Use to thin and reduce gilding viscocity.
Use to clean brushes and rollers.
Use to strip old dry gilding.
4.50
5.40
Florentine Liquid 15 / Wax 24
Rich Gold Liquid 10 / Wax 19
Pale Gold Liquid 13 / Wax 22
Classic Liquid 14 / Wax 23
Renaissance Liquid 17 / Wax 26
Code
Size
ex VAT
inc VAT
Code
Size
ex VAT
inc VAT