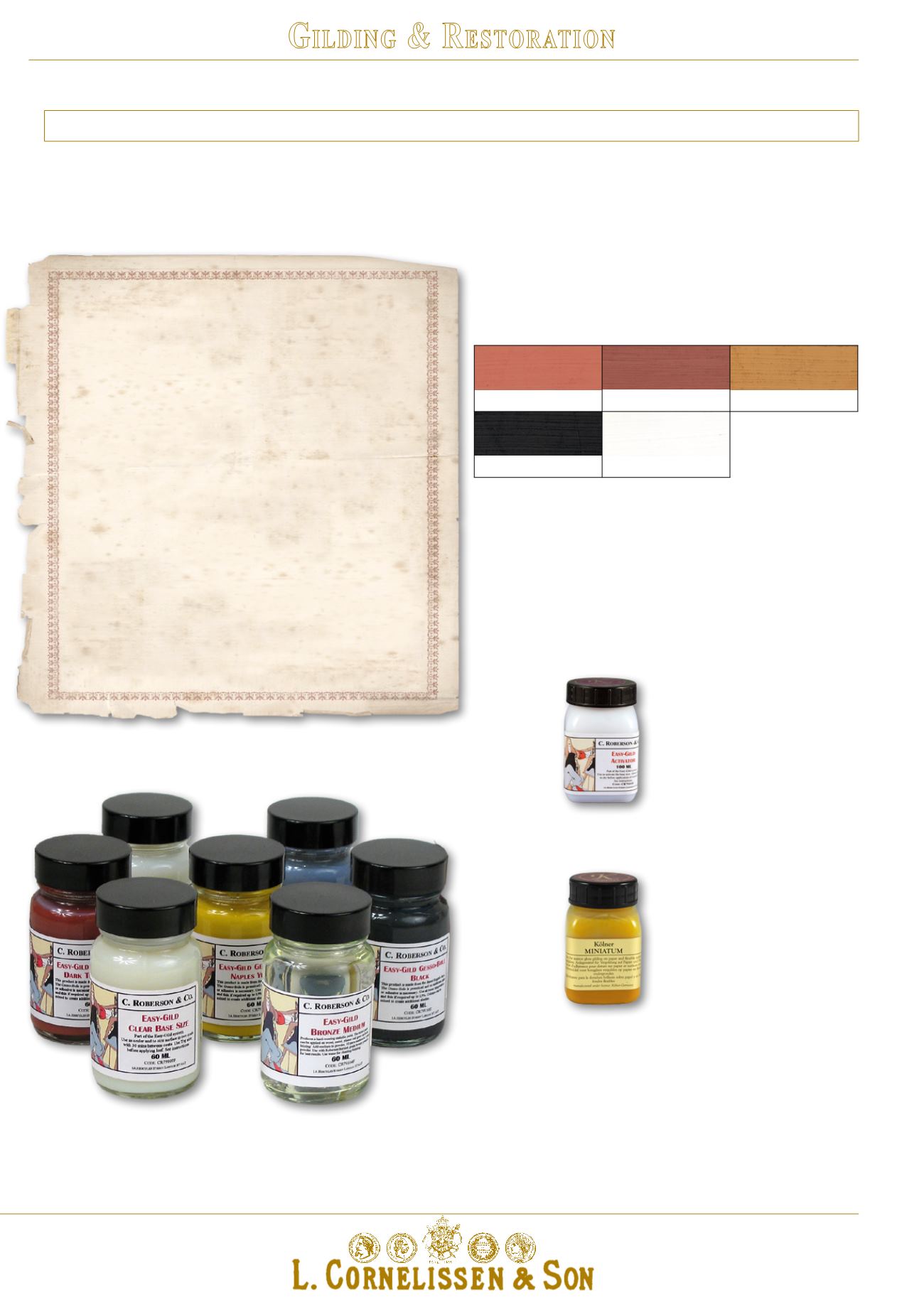 Section 6
9.42
11.30
9.42
11.30
The Easy-Gild system is a new, reliable way of achieving a high quality
It can be used with gold, silver and metal leaf.
This system provides a superb shine or mirror finish without the need to
1 - Apply at least two coats of Easy-Gild Gesso bole.
1a - Porous surfaces should be sealed with Easy-Gild
Base size diluted 15% with water if gesso bole is
2 - Apply two coats of Easy-Gild base size in total
with 30 mins between coats.
3 - Once the second coat is dry, apply the Easy-Gild
Activator and allow to dry.
4 - Place the transfer leaf face down and rub the back
5 - Rub with cotton wool over the gilded surface to
6 - Distress and age using wire wool in the same way as
traditional water gilding.
Gold leaf surfaces will not need to be varnished but
shellac will have to be applied on metal leaf finishes to
Roberson Easy-Gild Products
Code
Size
ex VAT
inc VAT
This product is made from the
finest English clays. The gesso
bole is premixed and no additional
glue is necessary. To be used at
room temperature and thinned
if required up to 15%. 7 colours
Colours can be mixed to create
additional shades.
8.92
10.70
37.33
44.80
9.42
11.30
Use to activate the Gild Base
10.75
12.90
Produces a hard wearing metallic
paint, can be applied on wood,
metal plaster and gesso surfaces.
Add 10 parts of medium to 1
part of bronze powder. Use the
Roberson burnishable grade
bronze powder for best results.
Use water for thinning/cleaning.
6.00
7.20
17.25
20.70
27.42
32.90