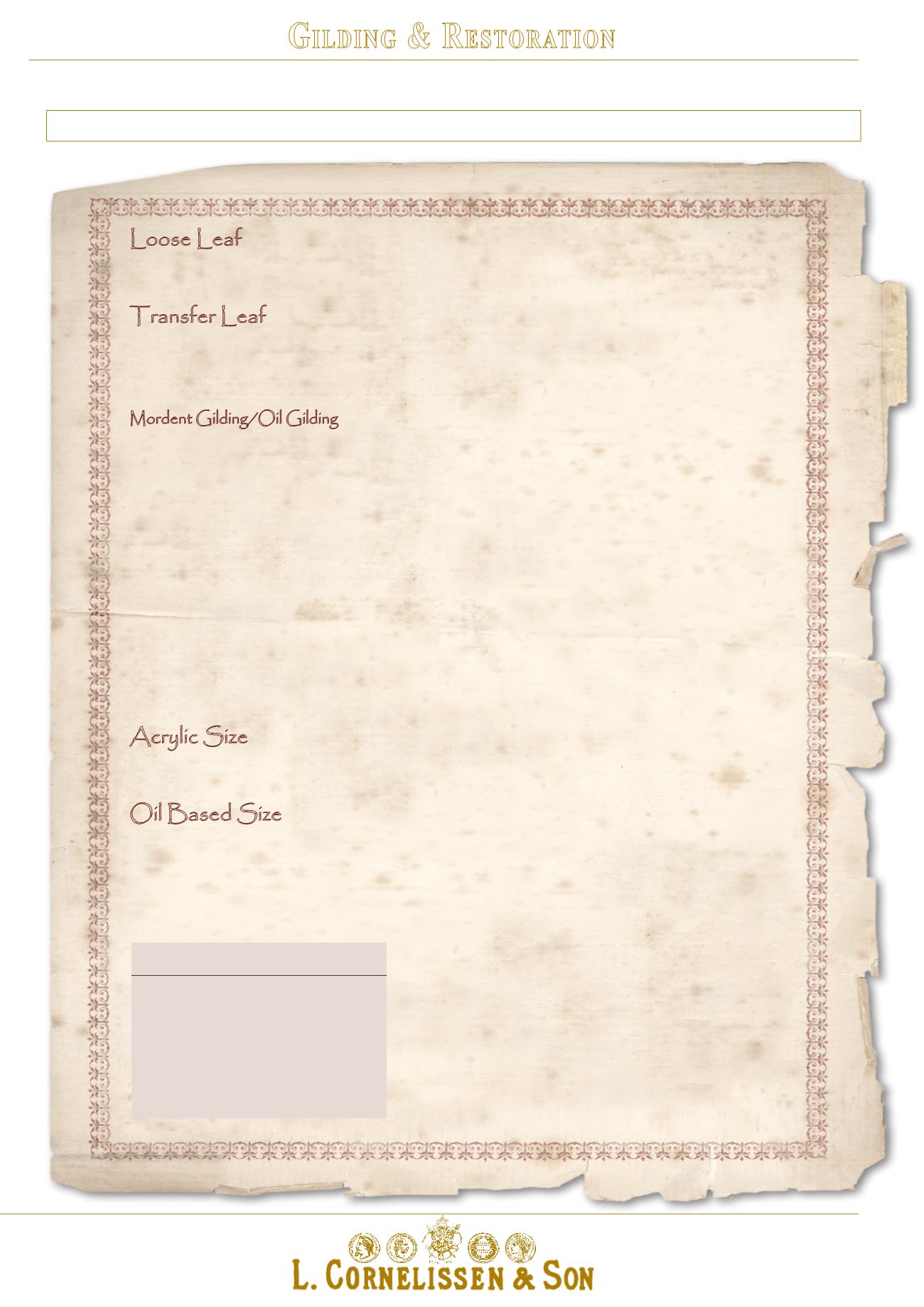 Section 6
Leaves rest between rouged pages of the book. Genuine gold leaf is very thin and fragile and the loose leaf must be
handled using a soft squirrel gilders tip. Imitation leaf is thick in comparison.
Each leaf is pressed onto waxed tissue paper ready for transferring onto oil or acrylic gold size. The paper backing
makes it easy to handle with the fingers but means the leaf will be slightly less shiny than loose leaf. It is not suitable
for water gilding. Our transferring is done in-house and loosely pressed leaf is available to order. Please note that
the transfer leaf should not be stored near a source of heat. Also transfer leaf should not be stored flat.
Mordent Gilding/Oil Gilding
A simple but effective method of gilding which is easy to pick up. Transfer or loose leaf may be used. The resulting
gilding is not suitable for burnishing with an agate burnisher. If a highly polished finish is required then water gilding is
the only way which can achieve this (see opposite).
1. Seal porous surfaces with a paint such as acrylic or casein. Red ochre or yellow ochre are the traditional colours
and complement the gold well if cracks appear in the gilding (or if you wish to distress through the gold with wire
wool). Shellac varnish may also be used if a clear sealer is required
2. Apply gold size (glue for gilding) on the areas to be gilded using a soft bristle brush. The size must be allowed to
become 'tacky' before laying the leaf i.e. sticky like self-adhesive tape but not wet. See below for descriptions of
sizes available. The dryer the tack the better the finish will be.
3. Apply leaf. If using transfer leaf, place with the gold side facing down and apply gentle pressure to the backing
paper. Loose leaf is more fragile so use a soft squirrel brush to tamp down. Allow each leaf to overlap slightly and
once dry brush away the excess gold using a soft squirrel mop.
4. Use 4/0 grade wire wool to distress, or a soft lint-free cloth to add extra shine to the surface.
5. Imitation gold leaf and silver will tarnish over time so a coat of varnish is required. Genuine gold need not be
varnished even if it will be outdoors
Quick and easy to use. Becomes tacky after 20 minutes and remains open for 1-2 days giving plenty of time to lay
the leaf. Does not level so may show brush strokes if applied too thickly.
Stronger than acrylic size. Dries to a hard, flat finish. Recommended for gilding outdoors or for areas which may be
prone to wear and tear. Choice of different drying rates (1-2 Hour, 3-Hour, 12-Hour, 24-Hour). A longer drying
time means a longer open time and a flatter finish. Use 24 hour Roberson or 12 Hour Charbonnel size when gilding
large areas. 1-Hour (Japan) size is useful for quickly gilding small areas. See table below for approximate open
Size
Tacky in : Open
Time :
Roberson 1-2 hour 1-2 hours 1 hour
Roberson 12 hour 12 hours 6 hours
Roberson 24 hour 24 hours 10 hours
W & N Japan Size 20 mins 10-20 mins
these drying times are approximate and may vary
dramatically depending on temperature and humidity. Japan size
can reach tack in 10 minutes on a hot day ! It is recommended that
you use a separate sample area which may be tested for tackiness.
Testing for tackiness may damage the area to be gilded (imperfec-
tions will show through the leaf and even finger prints may be visible
Information