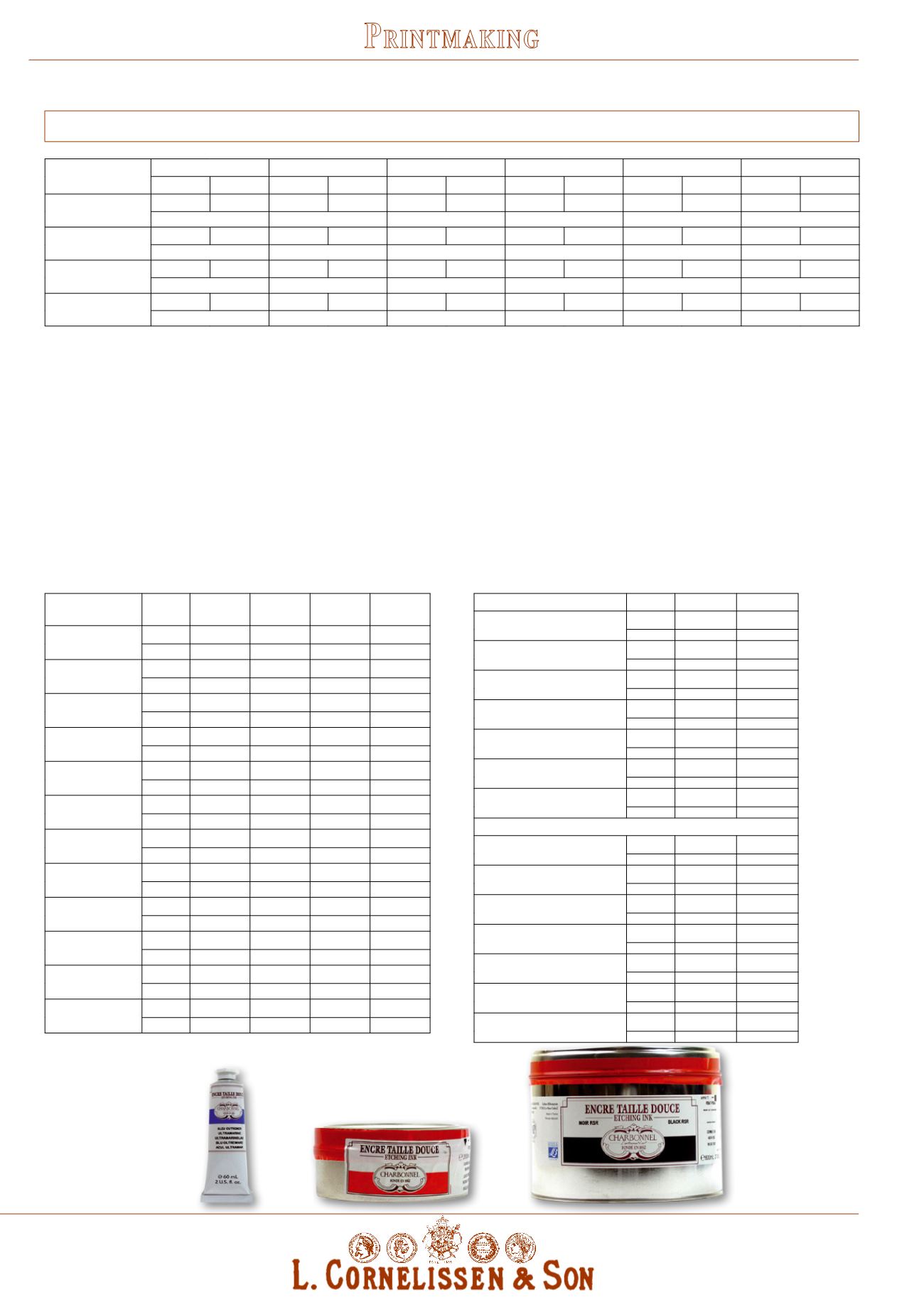 Section 7
55985 Black
Very deep slightly blue black well suited to dry point, aqua-
tint & mezzotint. Highly viscous, difficult to wipe.
F66 Black
Low viscosity, easy to wipe. Medium intensity, no prob-
lems in handling, all types of etching.
Soft Black
Low viscosity, easy to wipe. Very supple and
relatively opaque. May be used for lowering the tones of
a plate which is heavily engraved.
71303 Black
Warm black with hints of red. Viscous - wiping takes
RSR Black
Viscous, powerful and supple black. Useful for deeply
Luxe C Black
Low viscosity supple black. Used as 55985 but
easier to handle, black with hints of blue.
55981 Black
Universal supple black. Viscous but easier to wipe than
Carbon Black
Low viscosity, very easy to wipe. Used in particular for
Snow White TI
Titanium white. The highest covering and colouring
Snow White RS
Zinc White. Less covering power, more transparent.
Avoid using with steel covered plates.
Covering White
RS
Opaque zinc white. Intermediate between two
Transparent
White
CharbonnelEtching Inks
Series
1
2
3
4
5
6
ex VAT
inc VAT
ex VAT
inc VAT
ex VAT
inc VAT
ex VAT
inc VAT
ex VAT
inc VAT
ex VAT
inc VAT
8.33
10.00
9.33
11.20
11.42
13.70
14.58
17.50
17.25
20.70
23.50
28.20
CH31xxxE
CH31xxxE
CH31xxxE
CH31xxxE
CH31xxxE
CH31xxxE
12.58
15.10
16.42
19.70
21.75
26.10
26.75
32.10
29.75
35.70
40.58
48.70
CH31xxxG
CH31xxxG
CH31xxxG
CH31xxxG
CH31xxxG
CH31xxxG
21.00
25.20
26.92
32.30
— — — — — — — —
CH31xxxH
CH31xxxH
39.25
47.10
44.50
53.40
— — — — — — — —
CH31xxxJ
CH31xxxJ
Blacks and
Whites
Series 60 ml
200 ml
400 ml
800 ml
2
CH31080G CH31079H CH31078J
1
CH31065G CH31064H CH31063J
1
CH31914E CH31068G CH31067H CH31066J
2
CH31083G CH31082H CH31081J
1
CH31071G CH31070H CH31069J
2
CH31074G CH31073H CH31072J
2
CH31913E CH31077G CH31076H CH31075J
2
CH31907E
2
CH31903E CH31002G CH31001H
2
CH31904E CH31004G CH31003H
2
CH31905E CH31006G CH31005H
3
CH31906E
CH31034H
Yellows
Series
60 ml
200 ml
4
CH31861E CH31462G
4
CH31862E CH31463G
4
CH31863E CH31464G
3
CH31864E CH31465G
4
CH31865E CH31466G
4
CH31866E CH31467G
6
CH31867E CH31468G
Reds
4
CH31868E CH31469G
5
CH31869E CH31470G
4
CH31870E CH31471G
5
CH31871E CH31472G
6
CH31872E CH31473G
4
CH31873E CH31474G
5
CH31874E CH31475G