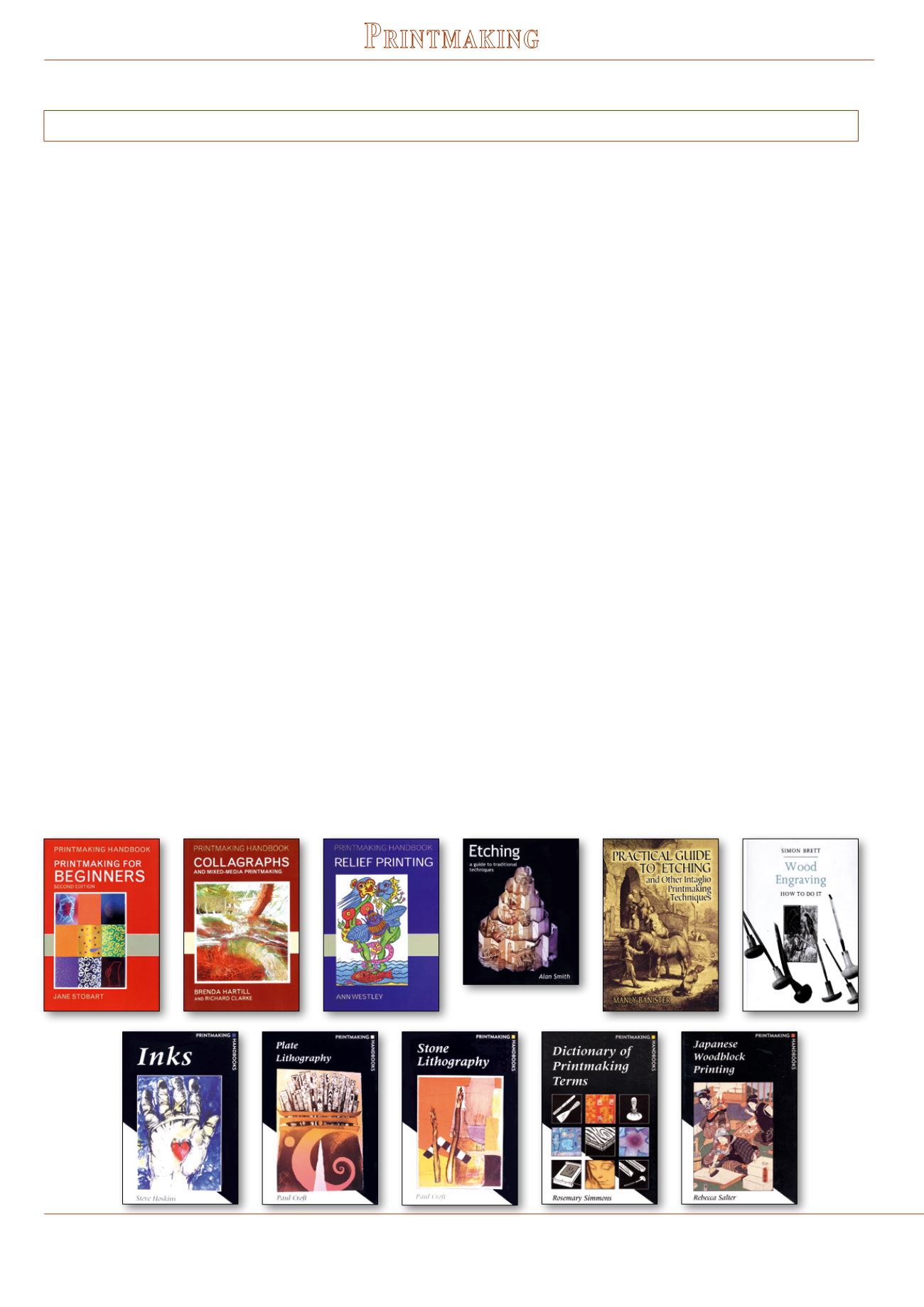 Worldwide Mail Order Service.
Phone +44 (0)20 7636 1045 Fax +44 (0)20 7636 3655
Section 7
Books
Code
ex VAT
inc VAT
Jane Stobart
Basic guide to a wide range of printmaking
techniques. It covers the processes of mono-
type, relief, intaglio, collagraph, screen print-
ing and litho print. Explaining basic methods
14.99
B.Hartill & R.Clarke
A wide range of techniques, providing prac-
tical hints about choosing materials and
printing methods to achieve the best result.
Discuss the historical use of collage in print-
14.99
Ann Westley
relief printing today, describing both the
traditional and progressive modes of
making, cutting, inking and printing.
14.99
Alan Smith
20.00
Manly Banister
Covers the fine point of working the plate
with rosin, burins, scrapers, burnishers,
rockers and roulettes. Illustrated with photo-
15.99
Simon Brett
A book to be welcomed by students of en-
graving at all levels. Straightforward guide
to what the aspiring engraver needs to get
22.50
Code
ex VAT
inc VAT
Steve Hoskins
Exploring the technical make-up and
different types of ink. Offers practical
information to all levels of printmakers.
14.99
Paul Croft
Expands on the principles of planographic
printing. Different aspects of zinc and alu-
minium plates, waterless lithography, new
and alternative methods of printing.
14.99
Paul Croft
Comprehensive approach to the many aspects
of stone lithography. Through simplified steps
the information is presented in a logical and
14.99
Rosemary Simmons
Invaluable description of all printmaking
terms and equipment. Information on all
techniques and materials. Foreign terms and
14.99
Rebecca Salter
History of Japanese woodblock, discusses the
materials, tools and paper available. Shows
how to get the most out of them through inter-
esting step-by-step projects.
14.99