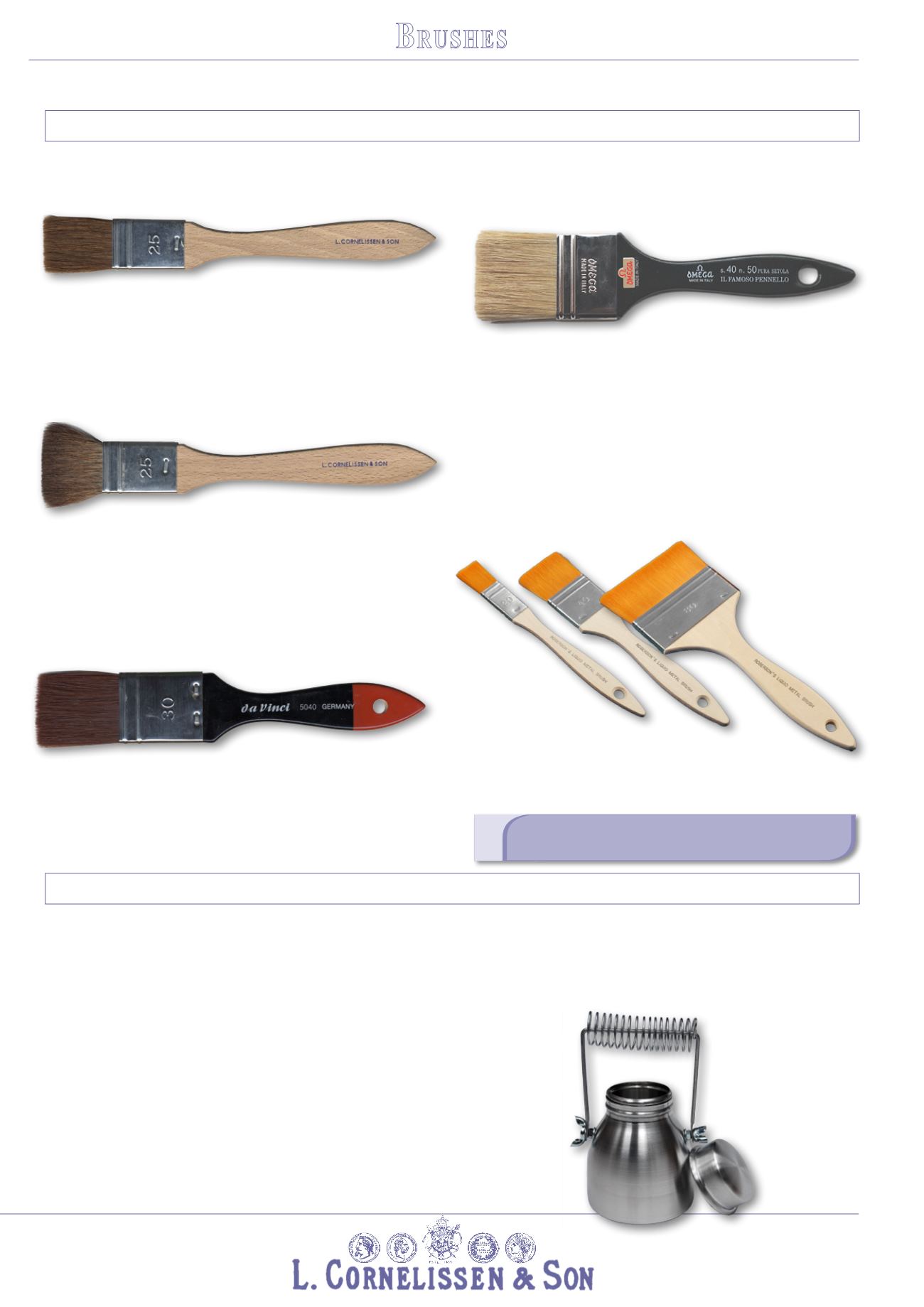 Section 8
Size
20 mm
¾"
40 mm
1½"
80 mm
3¾"
ex VAT 9.17
13.33
21.67
incVAT 11.00
16.00
26.00
Code
Size
30 mm
1¼"
40 mm
1½"
50 mm
2"
60 mm
2¼"
80 mm
3"
ex VAT 9.75
11.75
15.33
18.67
26.92
incVAT 11.70
14.10
18.40
22.40
32.30
Code
Soft but springy hair. For varnishing or lacquering. Also useful for
Extra soft brush for varnishing or lacquering. Also useful for watercolour
Size
25 mm
1"
50 mm
2"
75 mm
3"
ex VAT 10.42
17.92
22.92
incVAT 12.50
21.50
27.50
Code
Size
25 mm
1"
50 mm
2"
75 mm
3"
ex VAT 12.50
21.25
31.25
incVAT 15.00
25.50
37.50
Code
Flat soft hog hair in cupro-nickel ferule on short flat handle used for
applying varnish to both oil and acrylic paintings. Also recommended for
applying warm glue size and primers to all surfaces.
Dark brown, extra strong synthetic hair with black polished handle, tin
Size
20 mm
¾"
30 mm
1¼"
40 mm
1½"
50 mm
2"
70 mm
2½"
80 mm
3¾"
100 mm
4"
ex VAT 3.67 4.08 4.92 5.33 7.42 9.92 12.42
incVAT 4.40 4.90 5.90 6.40 8.90 11.90 14.90
Code
OM40020 OM40030 OM40040 OM40050 OM40070 OM40080 OM40100
Brushes will last much longer if they are cared for properly.
Water-soluble colours should be washed out with water and household or brush
soap immediately after use. Acrylic colour should not be allowed to dry on the
brush since it is almost impossible to remove once dried.
Oil colour should be thoroughly removed with white spirit. Then clean the
bristles with household or brush soap and warm water by gently working
the pigment out from the ferrule toward the end with your fingers. Rinse and
shake out the brush. Wipe the brush with a piece of cloth to bring it back to its
original shape. Let the brush dry completely but not over direct heat.
Brush Care
Brush Washers
23.00
27.60
26.58
31.90
30.50
36.60
49.16
59.00
Code
ex VAT
inc VAT
6.25
7.50
Code
ex VAT
inc VAT
30.79
36.95
Varnish and Lacquering Brushes
A high quality multi-purpose golden synthetic fibre brush with plain wood
handle and rustproof steel ferrule. This brush was originally developed for
use in our testing laboratory and has been specifically designed for use with
the Roberson Liquid Metal range. The micro fine synthetic bristles ensure a
high class smooth finish not available with normal acrylic brushes. It is also
excellent for applying both acrylic and solvent based varnishes.
Please go to page 120 to see
full range of Liquid Metal Colours.