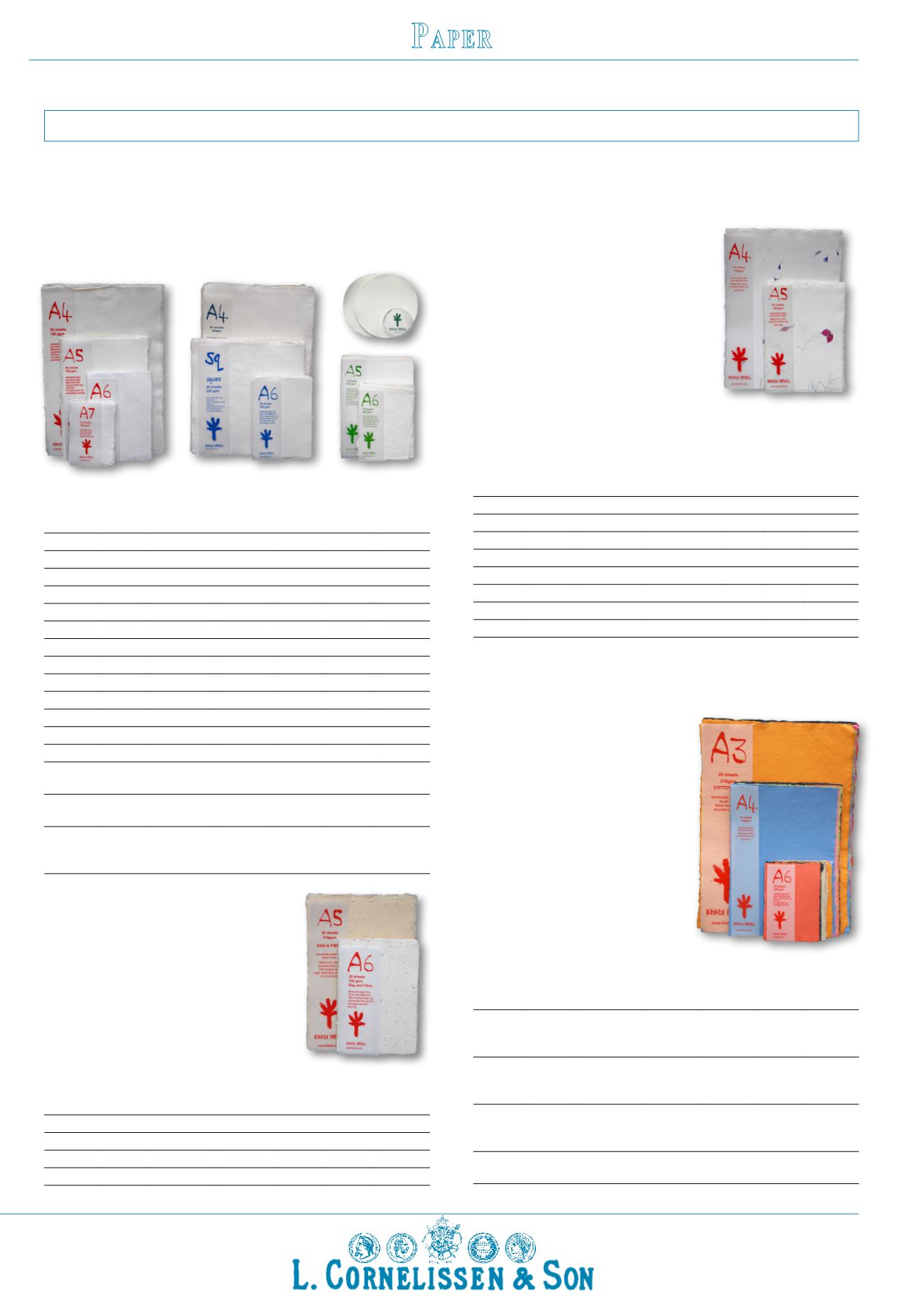 Section 9
Khadi Papers
Surface
Pack price
Pack
Quantity
Code
Size
ex VAT
inc VAT
150 gsm A7, 7x10cm Medium
1.62
1.95
150 gsm A6, 11x15cm Medium
2.50
3.00
150 gsm A5, 15x21cm Medium
3.75
4.50
150 gsm A4, 21x30cm Medium
5.91
7.10
210 gsm A3, 30x42cm Medium
11.66
14.00
320 gsm A6, 11x15cm Rough
3.75
4.50
320 gsm A5, 15x21cm Rough
5.66
6.80
320 gsm A4, 21x30cm Rough
8.33
10.00
320 gsm A3, 30x42cm Rough
12.62
15.15
640 gsm A6, 11x15cm Rough
3.25
3.90
640 gsm A5, 15x21cm Rough
4.83
5.80
640 gsm A4, 21x30cm Rough
7.33
8.80
640 gsm A3, 30x42cm Rough
11.25
13.50
6.33
7.60
11.00
13.20
12.00
14.40
Surface
Pack price Pack
Quantity
Code
Size
ex
VAT
inc
VAT
150 gsm A6, 11x15cm Bougainvillea
2.50
3.00
150 gsm A6, 11x15cm Cornflower
2.50
3.00
150 gsm A5, 15x21cm Bougainvillea
3.75
4.50
150 gsm A5, 15x21cm Cornflower
3.75
4.50
150 gsm A4, 21x30cm Bougainvillea
5.91
7.10
150 gsm A4, 21x30cm Cornflower
5.91
7.10
210 gsm A3, 30x42cm Bougainvillea
11.66
14.00
210 gsm A3, 30x42cm Cornflower
11.66
14.00
Surface
Pack price
Pack
Quantity
Code
Size
ex VAT
inc VAT
150 gsm A6, 11x15cm Smooth
2.50
3.00
150 gsm A5, 15x21cm Smooth
3.75
4.50
150 gsm A4, 21x30cm Smooth
5.92
7.10
210 gsm A3, 30x42cm Smooth
11.66
14.00
Surface
Pack price
Pack
Quantity
Code
Size
ex VAT
inc VAT
2.50
3.00
3.75
4.50
5.92
7.10
210 gsm A3, 30x42cm Colour
11.33
13.60
White Rag Paper Packs
Flower Paper Packs
Colour Paper Packs
Rag & Fibre Packs
Handmade papers from the cotton growing region of Karnataka , South India. Khadi papers are sized internally with a PH Neutral glue, then surface sized with gela-
tine which produces a hard, water resistant surface. Khadi rag papers are the only handmade papers in India that are genuinely acid free. All Khadi rag papers can be
used with all painting and drawing media. For painting in oils, they should be primed with gesso or acrylic primer.
Handmade paper made from 100% long fibred cotton rag. Acid free. Medium-
rough surface. Deckle edged.
These papers are made from cotton rag with
plant based material added to the pulp for
natural colour and texture.
Gunny paper is made from jute sacking (or
gunny as it's called in India) , banana paper is
made from chopped banana leaves and bagasse
paper is made from the sugar cane fibre that's
left after the juice has been extracted.
Bougainvillea and Cornflower.
Handmade paper from 100% long
Handmade from 100% long fibred
Each pack contains 20 sheets;
Tub sized (surface sized) with gelatine.