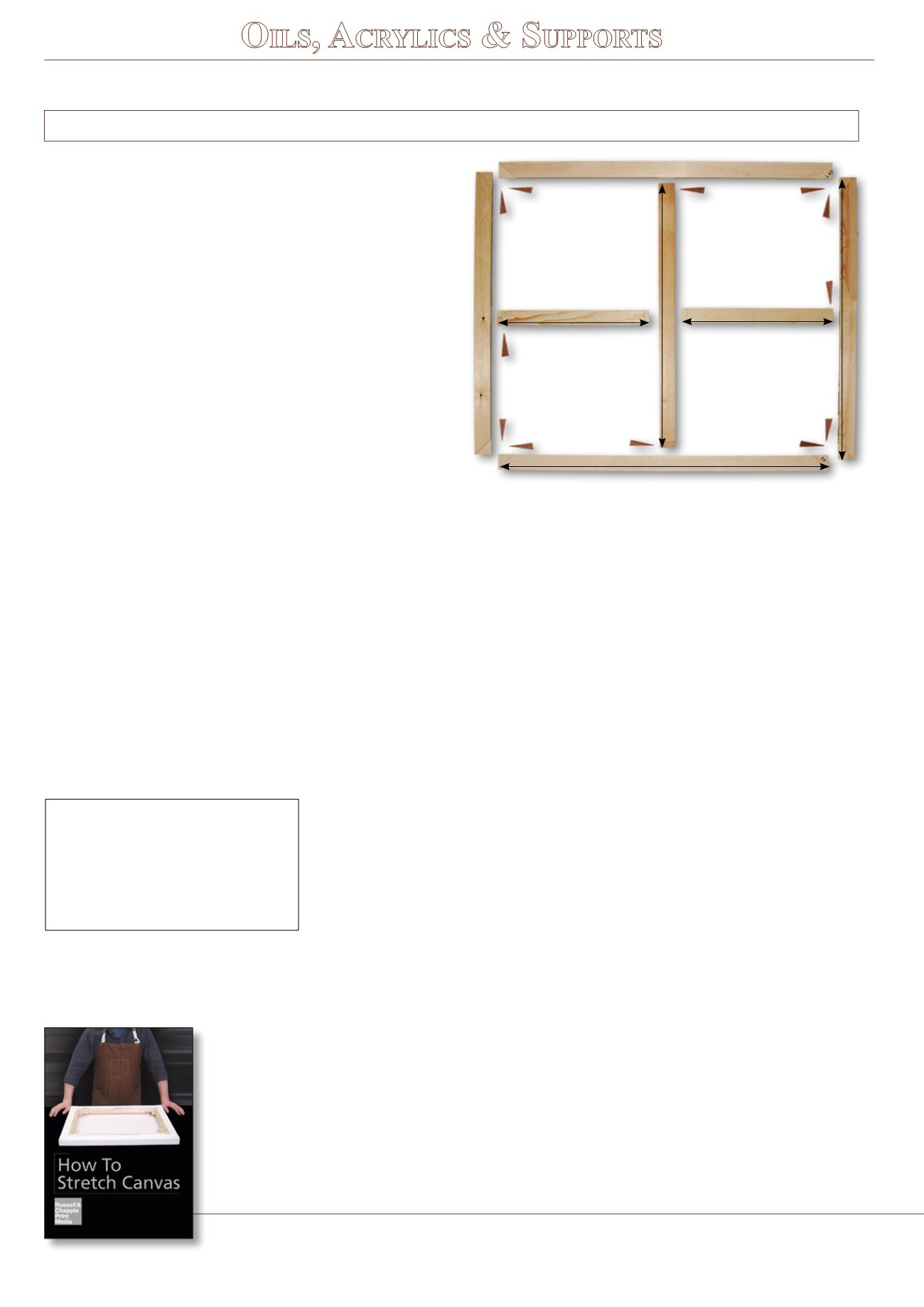 Worldwide Mail Order Service.
Phone +44 (0)20 7636 1045 Fax +44 (0)20 7636 3655
Section 2
Half bars
We stock a wide range of good quality, reliable stretchers. Non-stock
sizes are readily available to order and we usually require 4 days
notice for their preparation. Please ask for a quote before ordering
and bear the following points in mind:
When one side of the stretcher frame reaches 30 inches, we
All Cornelissen stretcher lengths of 30 inches or over are centre
centre bars or half bars (x-bars).
When the frame reaches 40 x 30 inch we
recommend bars in both directions.
For example, a 40 x 30 inch frame requires a
30 inch centrebar (shorter side) and two
20 inch half bars to span the 40 inch side.
1¾ inch wide
Code
Size
ex VAT
incVAT
1.00
1.20
1.00
1.20
1.00
1.20
1.17
1.40
1.29
1.55
1.38
1.65
1.50
1.80
1.63
1.95
1.75
2.10
Code Size
ex VAT
incVAT
1.38
1.65
1.46
1.75
1.67
2.00
1.83
2.20
2.00
2.40
2.17
2.60
2.33
2.80
2.50
3.00
2.67
3.20
2.83
3.40
3.63
4.35
3.79
4.55
3.96
4.75
4.17
5.00
4.25
5.10
4.42
5.30
4.67
5.60
4.83
5.80
5.00
6.00
5.21
6.25
Code Size
ex VAT
incVAT
3.08
3.70
3.42
4.10
3.50
4.20
3.83
4.60
4.83
5.80
5.00
6.00
5.17
6.20
5.33
6.40
5.50
6.60
5.67
6.80
5.83
7.00
6.00
7.20
6.17
7.40
6.33
7.60
Code
Size
ex VAT
incVAT
4.33
5.20
4.67
5.60
4.92
5.90
5.00
6.00
5.25
6.30
Stretcher Pieces (While stocks last)
10%
(M) indicates bars which are centre mortised
2¼ inch wide
Centre bars
ex VAT
incVAT
9.16
11.00