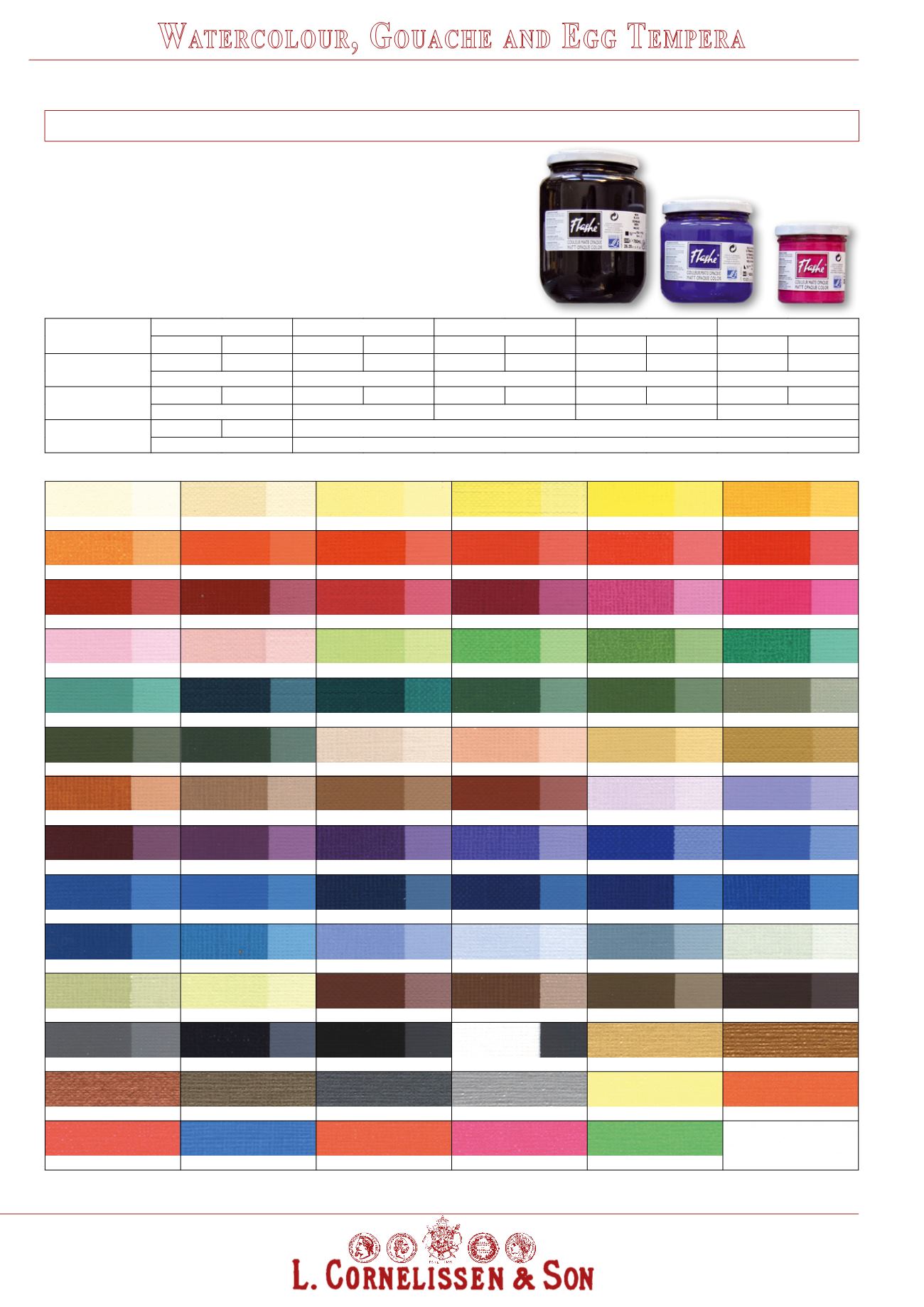 Section 3
Flashe Vinyl Paint
Flashe vinyl colours, like resin-based acrylic paints, can be diluted with water,
dry very quickly and become insoluble once dry providing lasting flexibility
and excellent preservation. They have an even matt finish which recalls
primitive Italian fresco painting. This makes Flashe the ideal medium for all
artworks to be photographed. Also popular for illustration, graphics, comics,
model making, fresco and interior mural decoration.
Lefranc & Bourgeois Flashe Vinyl
Series
1
2
3
4
5
ex VAT
incVAT
ex VAT
incVAT
ex VAT
incVAT
ex VAT
incVAT
ex VAT
incVAT
125 ml Jar
7.16
8.60
8.16
9.80
9.16
11.00
-
-
-
-
LB230xxx4
LB230xxx4
LB230xxx4
LB230xxx4
LB230xxx4
400 ml Jar
17.75
21.30
17.75
21.30
17.75
21.30
17.75
21.30
21.50
25.80
LB230xxx5
LB230xxx5
LB230xxx5
LB230xxx5
LB230xxx5
750 ml Jar
25.80
30.70 (Black and White only)
LB230xxx6
195 Senegal Yellow*** (1)
204 Brilliant Orange Perm.*** (1)
361 Cadmium Red Light** (1)
393 Vermillion Red*** (1)
362 Cadmium Red Deep** (1)
631 Violet Permanent*** (1)
551 Veronese Green Shade*** (1)
542 Chromium Oxide Green*** (1)
880 Light Terre Verte* (1)
523 Cobalt Green Hue* (1)
191 Naples Yellow Shade (1)
600 Ultramarine Pink Hue* (1)
043 Ultramarine Blue*** (1)
064 Cobalt Blue Hue***(1)
041 Manganese Blue Hue**(1)
881 Prussian Blue Hue***(1)
173 Light Yellow Fluorescent*** (3) 232 Light Orange Fluorescent***( 3)
376 Grenadine Fluorescent*** (3)
029 Light Blue Fluorescent*** (3)
371 Fire Red Fluorescent*** (3)
435 Bengal Red Fluorescent*** (3)
590Yellow Green Fluorescent*** (3)
001 White Fluorescent*** (3)
*available in 125ml jar only **available in 400ml jar only ***available in 125 & 400ml jars