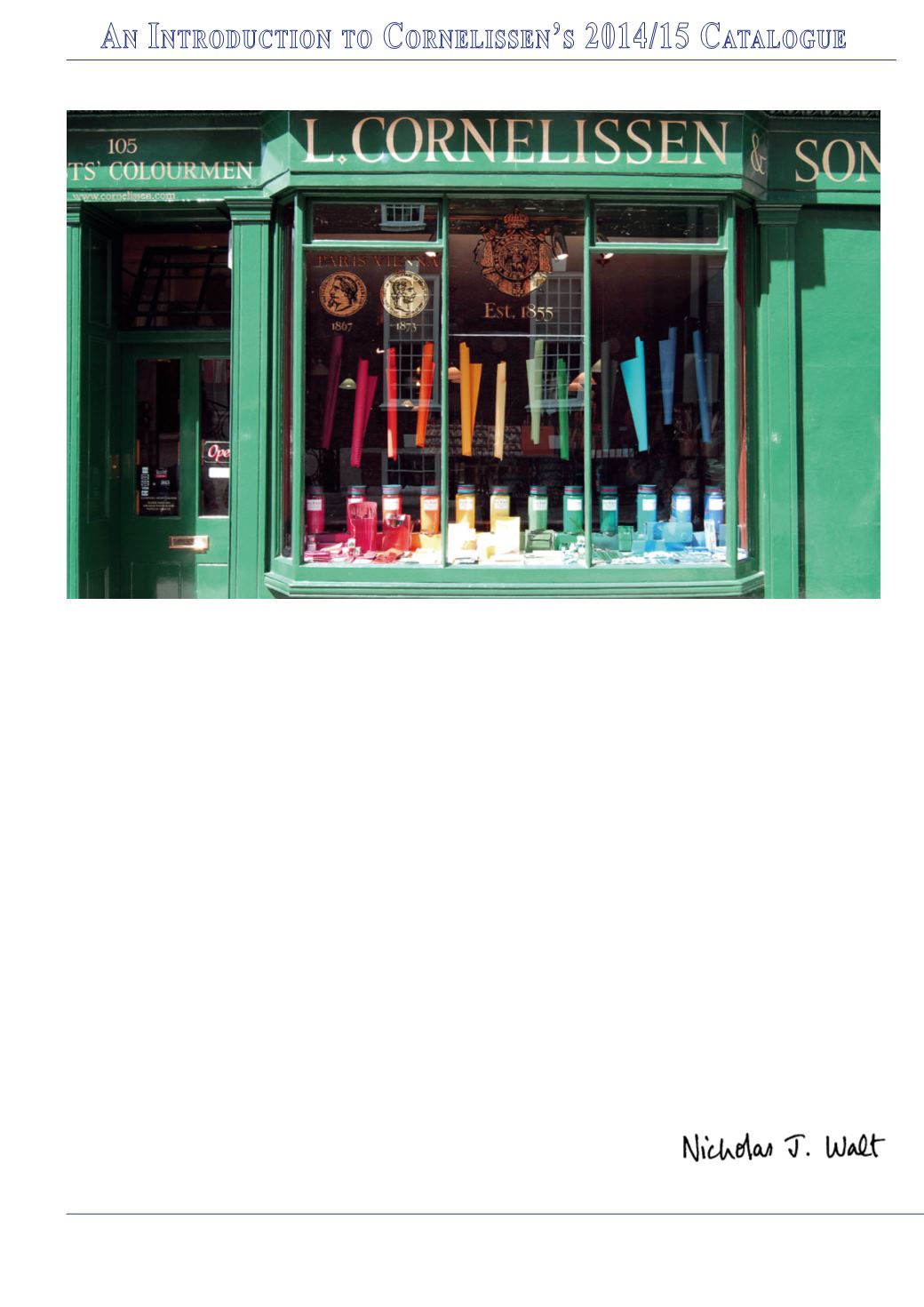 Worldwide Mail Order Service.
Phone +44 (0)20 7636 1045 Fax +44 (0)20 7636 3655
his is our first catalogue since early 2011. Not having a
new one for nearly 4 years is a serious omission on our
part, given the volatility within this period of commodity
prices and currency exchange rates and the emigration of
pigment manufacturing to India and China. Even though
we are a "small business", the prices of gold, silver, copper,
cotton, titanium white, brush hair etc. all influence the prices
we can offer you, our customers. This catalogue, therefore,
represents our catch-up and we apologise for taking so long to
On our till we monitor transactions according to application
such as Gilding, Printmaking, Oil painting, Pigments
etc. Drawing is one of these categories and consistently
represents an important proportion of our transactions. This
healthy emphasis on drawing is apparent in this edition with
several new ranges of drawing materials (pages 86/87). We
are already planning a 2015 edition to be available for next
summer, which will also include many new products.
Colleagues in the trade tell me that the age of the catalogue has
been brought to an end by the internet. Only 3 years ago a trade
friend produced 25,000 catalogues. This year he has decided
not to print any. While the internet grows in importance for
us too, the discipline to produce a good catalogue feeds into
our system for traditional mail-order and our internet site. So
we plan to continue producing catalogues which we hope will
continue to serve as a useful reference for you.
A recent highlight for us was an invitation from the Royal
Society of Chemistry to give a presentation about artists'
pigments. Our hosts for the day, Fuji Colours (Sericol), showed
us around their R&D department and their factory. The scale
and quality of both were hugely impressive and reminded us
how tiny our artists' materials world is compared with other
industries. This in turn made us appreciate even more some
of our suppliers who are dependent on the demand of other
industries to keep their supply chains viable.
In the US we learned recently that the number of artists'
material retail names had shrunk from 6,000 to under 800
within 20 years. Computers have replaced the departments
of many 'art & graphic' stores and the internet removes a lot
of traditional retail transactions. I suspect the same decline
in outlets is happening in Western Europe as well. This
encourages us to develop further our areas of specialisation.
The Cornelissen window displays this year have attracted
enormous attention from passers-by. We are close to the
British Museum (6-7 million visits/year) so pictures of our
window have spread across the world leading to interesting
enquiries for us to follow up.
I look forward to writing a new introduction for the 2015
catalogue and, in the interim, to receiving your comments
Director