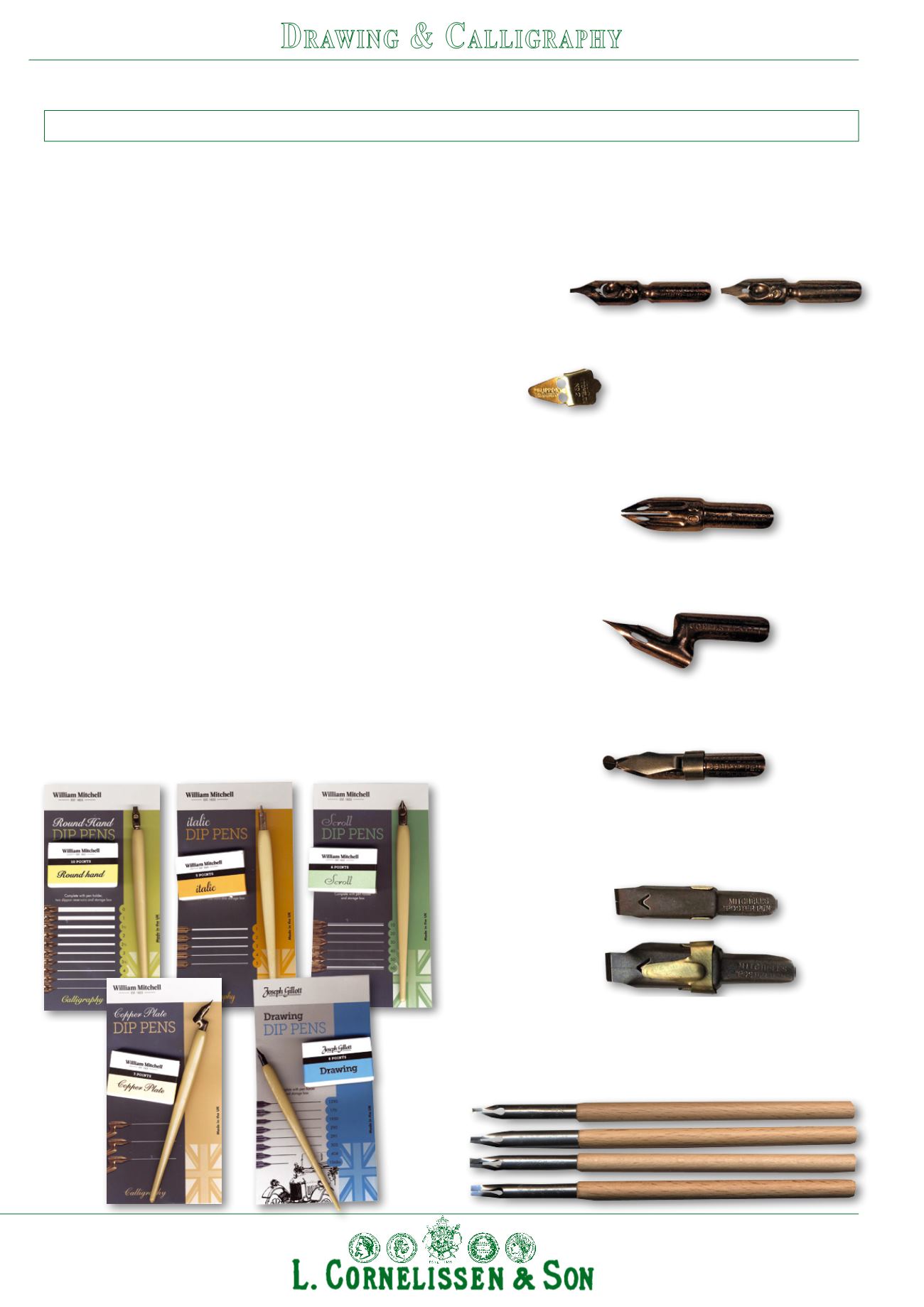 Section 5
Each
10+nibs
Code
ex VAT
inc VAT
ex VAT
inc VAT
Nibs
0.67
0.80
0.58
0.70
Code
ex VAT
inc VAT
Set of 10 nibs with handle in a display
pack. Allows a full, even flow of ink when
used with the Slip-on Reservoir. Suitable
for all types of edging pen lettering
including the Uncial, Foundational, Gothic,
8.33
10.00
Set of 3 elbow nibs with handle in a
display pack. Outstanding quality writing
implement for the copperplate calligrapher.
With a fine, responsive elbow, oblique pens
are constructed to enable ease of writing
with exceptional results.
7.50
9.00
Set of 5 nibs with handle in a display pack.
A chisel point nib ideally suited for italic
handwriting and other calligraphy styles,
such as Gothic and Uncial. It is a slightly
firmer nib than the Round Hand. Use of the
Slip-on Reservoir allows a full even flow
6.67
8.00
Fine art nibs in eight sizes suitable for
Copperplate calligraphy and other fine
writing styles, ink sketching, mapping and
drawing. Includes pen holder.
8.17
9.80
Set of 6 nibs with handle in a display
pack. These double edged Scroll Pens are
ideal for double line calligraphy effects
and decorative borders. Each pen has a
narrow and wide tine and does not require
9.17
11.00
Pen Nibs
William Mitchell Nibs
William Mitchell Calligraphy Sets
1.25
1.50
0.92
1.10
0.54
0.65
0.45
0.55
0.92
1.10
0.79
0.95
1.17
1.40
1.08
1.30
1.68
2.00
1.50
1.80
Witch Pen and holder for the scribe that
is working on uneven and textured paper
surfaces. Available in five different sizes:
2.75
3.30