---
COVID-19 Information
October 1st 2020
The Cornelissen shop is open from 9.30 - 6.00pm Monday - Saturday. Hand sanitizer is available on arrival. We wear PPE and have a screen across the counter.
We are limiting the number of customers in the shop, so you may be asked to wait. Should you prefer to phone in your order and pick it up yourself, please call 020-7636-1045.
Stock levels improve every day. Pigments, Printmaking, Paper, Gilding, Oils and Watercolours are back to normal. We have a new Cornelissen hard back watercolour book using Fabriano Artistico and soon a set of earth Pigments sourced from different parts of London.

We hope you all are safe and healthy.
L. Cornelissen & Son
---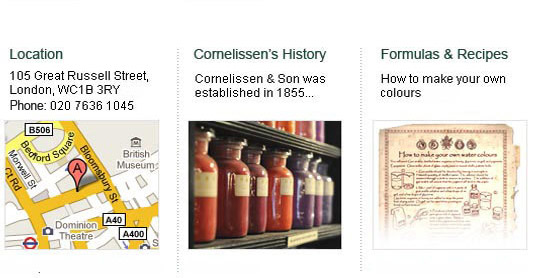 Following the recent BBC Radio 4 programme made in Cornelissen about some of our customers, Cornelissen now features in a new fast moving Barclaycard commercial. Click here to see the commercial