---
Russell & Chapple Is Still Trading
If you need primed or unprimed cotton or linen canvas, stretcher bars or stretched canvasses, our sister shop Russell & Chapple is still trading for mail order sales.
Please visit the website www.russellandchapple.co.uk to place an order or e-mail info@randc.net.
---
COVID-19 Information
Wednesday March 25th 2020
It is with sadness that we have had to close our shop and the transaction element of our web site. We apologise to you. All our stock is in our retail premises near The British Museum or in our Pigment warehouse in Wimbledon and both have had to close following our government's latest restrictions.
As of close of business yesterday, there is no longer anyone able to pick and dispatch orders. We hope that government restrictions will lessen soon and that we will be able to return to somewhat normal operation. We wholeheartedly apologise for any inconvenience our closure and subsequent delays may cause, and we thank everyone for their understanding and patience during these troubling times.
We hope you all are safe and healthy.
L. Cornelissen & Son
If you have an enquiry about the status of an exisitng order, please contact orders@cornelissen.com and quote your order reference number (eg. 100012345) in the subject of the e-mail. We will be contacting those whose orders we know will not be dispatched, to offer refunds or to place the order on hold for such a time that service can return to normal.
---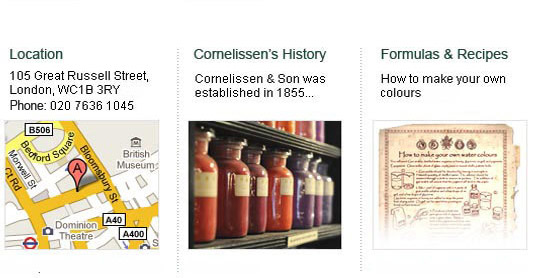 Following the recent BBC Radio 4 programme made in Cornelissen about some of our customers, Cornelissen now features in a new fast moving Barclaycard commercial. Click here to see the commercial